This page only shows primary logo variants.
For other related logos and images, see:
1995–1997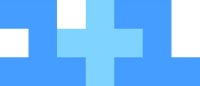 When 1+1 was launched, it shared the same frequency with UT-1 and later with UT-2 from 1997 to 2004.
1997–present
1997-2005

2005-present

1+1 launched a high-definition feed on 19 September 2019, the day after the Ukraina Media Group launches HD for three generic TV channels.