13th Street
1997–2009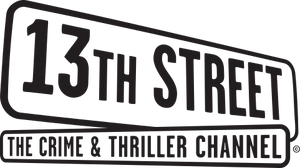 13th Street Universal
2009–present

Universal Networks is in the process of rebranding the channel 13th Street Universal. Heavenly has designed the logo, while DixonBaxi is behind the graphics package.
The new logo was first launched in November 2009, when 13th Street was launched in Australia, the channel has since been replaced by Fox Sleuth.
On September 13, 2010, Hallmark Channel in Poland was replaced by 13th Street Universal [3]
The Spanish version, Calle 13, became Calle 13 Universal on September 22.[4]
The French version, 13ème Rue, becomes 13ème Rue Universal on November 13, 2010 as its celebrates its 13th anniversary.[7][8]
Germany: [9]
The Polish 13th Street Universal replaced by 13 Ulica on September 13, 2013, celebrating the 3rd anniversary. It uses the same logo, but the ULICA inside THSTREET and without the Universal wordmark