The 2002 FIFA World Cup (branded as 2002 FIFA World Cup Korea/Japan) was the 17th edition of the FIFA World Cup, the global championship tournament in men's association football, held across 10 cities each in South Korea and Japan[1] (20 in total) from 31 May to 30 June 2002. It was the first FIFA World Cup to be held in more than one country, with the second being the 2026 edition in Canada, Mexico and the United States.
The defending champions were France, who won the 1998 tournament at home. The tournament was won by Brazil, which beat Germany in the International Stadium, Yokohama, Japan, on 30 June 2002.
1995–1998
1999–2002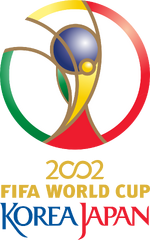 The official logo of the 2002 FIFA World Cup Korea/Japan was revealed on 31 May 1999 simultaneously in Seoul and Tokyo, the capital cities of the first countries in Asia to host the world's premier sports event.
The circular logo was created by the London office of Interbrand, in consultation with its offices in Tokyo and Seoul. For the first time in the history of the event, the logo features the FIFA World Cup Trophy as a central stylised feature, as well as the FIFA World Cup logotype.
"The logo builds on the artistic principles and traditions of Korea and Japan, such as asymmetry, dynamism and harmony, in order to live up to the high quality of design for which both countries are renowned."
Mascots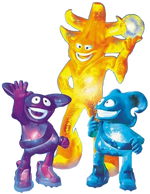 Name: 
The Spheriks:
Ato (Yellow)
Kaz (Purple)
Nik (Blue)
For the first time, the mascots were computer generated and futuristic. The backstory is that Ato (orange/yellow) is the coach and Kaz (purple) and Nik (blue) are the players for a team at the fictional sport of 'Atmoball'. The colours interestingly, don't have any connection to South Korea or Japan. The mascots were introduced in 2000.
Notes and references
↑

No matches were played in Tokyo, the Japanese capital (uniquely among FIFA World Cups; every World Cup since then has had matches in the country capital).
Member confederations
AFC | CAF | CONCACAF | CONMEBOL | OFC | UEFA
---
World Cup
Uruguay 1930 | Italy 1934 | France 1938 | Brazil 1950 | Switzerland 1954 | Sweden 1958 | Chile 1962 | England 1966 | Mexico 1970 | Germany 1974 | Argentina 1978 | Spain 1982 | Mexico 1986 | Italy 1990 | United States 1994 | France 1998 | South Korea/Japan 2002 | Germany 2006 | South Africa 2010 | Brazil 2014 | Russia 2018 | Qatar 2022 | Canada/Mexico/United States 2026 | TBA 2030

2002 Bids
South Korea/Japan | Mexico
---
Women's World Cup
China 1991 | Sweden 1995 | United States 1999 | United States 2003 | China 2007 | Germany 2011 | Canada 2015 | France 2019 | Australia/New Zealand 2023 | TBA 2027
---
Club World Cup
Brazil 2000 | Spain 2001 (cancelled) | Japan 2005, 06, 07, 08 | UAE 2009–10 | Japan 2011–12 | Morocco 2013–14 | Japan 2015–16 | UAE 2017–18 | Qatar 2019–20 | UAE 2021 | China TBD
---
U-20 World Cup
Tunisia 1977 | Japan 1979 | Australia 1981 | Mexico 1983 | Soviet Union 1985 | Chile 1987 | Saudi Arabia 1989 | Portugal 1991 | Australia 1993 | Qatar 1995 | Malaysia 1997 | Nigeria 1999 | Argentina 2001 | UAE 2003 | Netherlands 2005 | Canada 2007 | Egypt 2009 | Colombia 2011 | Turkey 2013 | New Zealand 2015 | South Korea 2017 | Poland 2019 | Indonesia 2023
---
U-20 Women's World Cup
Canada 2002 | Thailand 2004 | Russia 2006 | Chile 2008 | Germany 2010 | Japan 2012 | Canada 2014 | Papua New Guinea 2016 | France 2018 | Costa Rica 2022
---
U-17 World Cup
China 1985 | Canada 1987 | Scotland 1989 | Italy 1991 | Japan 1993 | Ecuador 1995 | Egypt 1997 | New Zealand 1999 | Trinidad and Tobago 2001 | Finland 2003 | Peru 2005 | South Korea 2007 | Nigeria 2009 | Mexico 2011 | UAE 2013 | Chile 2015 | India 2017 | Brazil 2019 | Peru 2023
---
U-17 Women's World Cup
New Zealand 2008 | Trinidad and Tobago 2010 | Azerbaijan 2012 | Costa Rica 2014 | Jordan 2016 | Uruguay 2018 | India 2022
---
Futsal World Cup
Netherlands 1989 | Hong Kong 1992 | Spain 1996 | Guatemala 2000 | Chinese Taipei 2004 | Brazil 2008 | Thailand 2012 | Colombia 2016 | Lithuania 2021 | TBD 2024
---
Beach Soccer World Cup
Brazil 1995, 96, 97, 98, 99, 2000, 01, 02, 03, 04, 05, 06, 07 | France 2008 | UAE 2009 | Italy 2011 | Tahiti 2013 | Portugal 2015 | Bahamas 2017 | Paraguay 2019 | Russia 2021 | TBD 2023
---
FIFAe
World Cup | Club World Cup | Nations Cup
---
Defunct
Confederations Cup: Saudi Arabia 1992, 95, 97 | Mexico 1999 | South Korea/Japan 2001 | France 2003 | Germany 2005 | South Africa 2009 | Brazil 2013 | Russia 2017
---