The 2023 FIFA Women's World Cup is an upcoming women's football tournament to be staged in 2023 in Australia and New Zealand. Australia/New Zealand were chosen as co-hosts on June 25, 2020 by the FIFA Council through an online conference. The defending champions are the United States who won two previous tournaments.
2019—2020
| | |
| --- | --- |
| | SVG NEEDED |
On December 13, 2019, Football Federation Australia discontinued their lone bid in favour of a joint bid with New Zealand Football. The campaign launched that day with the campaign theme; #AsOne.
2020—2021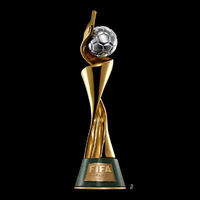 In the interim period between the host announcement and the official emblem reveal, FIFA placed a render of the FIFA Women's World Cup trophy on the tournament site.
2021—2023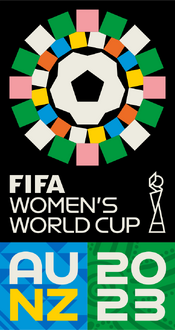 Designer: 
Public Address
Works Collective
Fiona Collis Māori Pattern
Chern'ee Sutton FNA Pattern

| | |
| --- | --- |
| Typography:  | Custom type by Alistair McCready |

| | |
| --- | --- |
| Launched:  | 28 October 2021 |
The official emblem was unveiled on 28 October 2021, via livestream on FIFA's social media channels. The emblem is a departure from the stylised trophies of years past, setting a new standard for events to come.
Celebrating the first FIFA Women's World Cup to feature 32 teams, the focal point of the emblem is the minimalist Telstar-style football surrounded by 32 squares. The colours of said squares are indicative of the host countries' natural landscapes and cultures. Māori Tāniko triangle patterns and First Nations Australian 'meeting place' designs are also implemented in the emblem. The slogan "Beyond Greatness" was also unveiled that day.
Member confederations
AFC | CAF | CONCACAF | CONMEBOL | OFC | UEFA
---
World Cup
Uruguay 1930 | Italy 1934 | France 1938 | Brazil 1950 | Switzerland 1954 | Sweden 1958 | Chile 1962 | England 1966 | Mexico 1970 | West Germany 1974 | Argentina 1978 | Spain 1982 | Mexico 1986 | Italy 1990 | United States 1994 | France 1998 | South Korea/Japan 2002 | Germany 2006 | South Africa 2010 | Brazil 2014 | Russia 2018 | Qatar 2022 | Canada/Mexico/United States 2026 | TBA 2030
---
Women's World Cup
China 1991 | Sweden 1995 | United States 1999 | United States 2003 | China 2007 | Germany 2011 | Canada 2015 | France 2019 | Australia/New Zealand 2023 | TBA 2027

---
Club World Cup
Brazil 2000 | Spain 2001 (cancelled) | Japan 2005, 06, 07, 08 | UAE 2009–10 | Japan 2011–12 | Morocco 2013–14 | Japan 2015–16 | UAE 2017–18 | Qatar 2019–20 | UAE 2021 | China TBD
---
U-20 World Cup
Tunisia 1977 | Japan 1979 | Australia 1981 | Mexico 1983 | Soviet Union 1985 | Chile 1987 | Saudi Arabia 1989 | Portugal 1991 | Australia 1993 | Qatar 1995 | Malaysia 1997 | Nigeria 1999 | Argentina 2001 | UAE 2003 | Netherlands 2005 | Canada 2007 | Egypt 2009 | Colombia 2011 | Turkey 2013 | New Zealand 2015 | South Korea 2017 | Poland 2019 | Indonesia 2023
---
U-20 Women's World Cup
Canada 2002 | Thailand 2004 | Russia 2006 | Chile 2008 | Germany 2010 | Japan 2012 | Canada 2014 | Papua New Guinea 2016 | France 2018 | Costa Rica 2022
---
U-17 World Cup
China 1985 | Canada 1987 | Scotland 1989 | Italy 1991 | Japan 1993 | Ecuador 1995 | Egypt 1997 | New Zealand 1999 | Trinidad and Tobago 2001 | Finland 2003 | Peru 2005 | South Korea 2007 | Nigeria 2009 | Mexico 2011 | UAE 2013 | Chile 2015 | India 2017 | Brazil 2019 | Peru 2023
---
U-17 Women's World Cup
New Zealand 2008 | Trinidad and Tobago 2010 | Azerbaijan 2012 | Costa Rica 2014 | Jordan 2016 | Uruguay 2018 | India 2022
---
Futsal World Cup
Netherlands 1989 | Hong Kong 1992 | Spain 1996 | Guatemala 2000 | Chinese Taipei 2004 | Brazil 2008 | Thailand 2012 | Colombia 2016 | Lithuania 2021 | TBD 2024
---
Beach Soccer World Cup
Brazil 1995, 96, 97, 98, 99, 2000, 01, 02, 03, 04, 05, 06, 07 | France 2008 | UAE 2009 | Italy 2011 | Tahiti 2013 | Portugal 2015 | Bahamas 2017 | Paraguay 2019 | Russia 2021 | TBD 2023
---
FIFAe
World Cup | Club World Cup | Nations Cup
---
Defunct
Confederations Cup: Saudi Arabia 1992, 95, 97 | Mexico 1999 | South Korea/Japan 2001 | France 2003 | Germany 2005 | South Africa 2009 | Brazil 2013 | Russia 2017
---