Contents

2004–2006
2006–2008
2008–2010
2010–2011
2011–2014
2014–2016
2016–2019
2019–present
2004–2016
2004–2006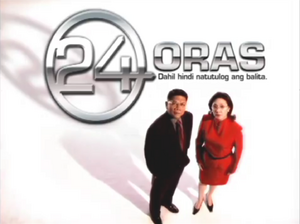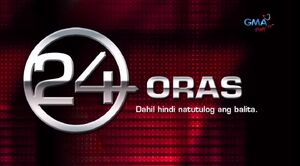 Used from March 15, 2004 to April 14, 2006.
2006–2008
Used from April 17, 2006 to August 8, 2008.
2008–2010
Used from August 11, 2008 to December 3, 2010.
2010–2011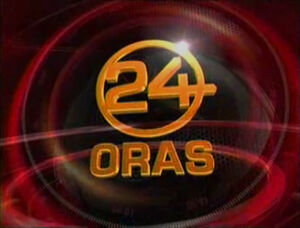 Used from December 6, 2010 to February 18, 2011.
2011–2014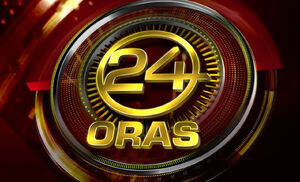 Used from February 21, 2011 to November 7, 2014.
2014–2016
Used from November 10, 2014 to December 2, 2016.

When Vicky Morales (former anchor of Saksi) arrived, 24 Oras changed its logo to represent its rivalry against TV Patrol. The logo is connected to the 2 and 4 making an illusion to a clock.
2016–present
2016–2019
Used from December 5, 2016 to May 10, 2019.
Later the logo is updated. It use DIN while Oras is in the font like the 2014 logo but bolder. It has the tagline "Balitang Pinagkakatiwalaan, Nangunguna Sa Buong Bayan". It represent future of digital era.
Sometimes on June 12, 2018, it uses Myriad. And for the first time in the newscast's history, the color blue was used along with red for the lower third graphics and background LED screen. Even with this change, the lower-thirds and some graphics of the Weekend edition remained unchanged (apart from the news ticker, whose clock was also removed and is now colored blue like the Weekday newscast). Atom Araullo joined 24 Oras after he made a contract replacing Mike Enriquez on August 24, 2018 (since Mike has a kidney treatment)
2019–present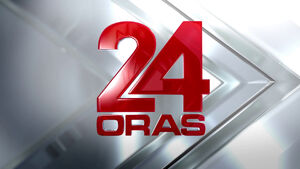 Used from May 13, 2019 to present.
On May 13, 2019, in time with the 2019 Philippine general election, the newscast returned to the newly-renovated P63 million peso state of the art Studio 5 constructed by U.S. based company FX Design Group, along with Saksi and State of the Nation with Jessica Soho. The newscast aired with reformatted graphics and logo. Its new and more modern OBB premiered the following night. The lower third graphics was reverted to the DIN typeface, the news ticker has been reverted to color black and its font uses Avenir typeface, and the logo now only displays the number "24", dropping the "Oras" logo and in a spinning dice format in every sides. The brand new set also uses computer-generated graphics provided by Vizrt, integrate within the set in real time, creating a virtual studio. It currently uses alongside Augmented Reality graphics, for "Sumbungan Ng Bayan" and "Kapusong Totoo" segments, it also use for Christmas/New Year countdowns, or other related topic to emphasizes data gathering and issue explanation. On Weekend, the word Weekend was added and shrunk to 90% of the original dice block to fit Weekend. The spinning dice has CGI shine.
| | | |
| --- | --- | --- |
| | 24 Oras (TV news program) | |