A1 is one of three mobile network operators in Austria in central Europe, the other two being Magenta Telekom (formerly T-Mobile Austria) and Drei (or Three). It is the flagship property of A1 Telekom Austria Group, a pan-European conglomerate majority-owned by América Móvil of Mexico.
1996–2010
2006–2011
2011–present
2011–2018
2018–present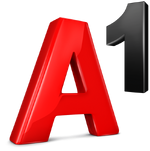 The logo has been slightly changed. The A appears in red and the 1 is now tilted. Furthermore, the font used to write the 1 has changed from Helvetica to Arial.
During the late 2010s, the A1 brand replaced local telecom brands across eastern European countries.