This page only shows print and stationary logos.
For other related logos and images, see ABC Me/Other
ABC3
2009–2016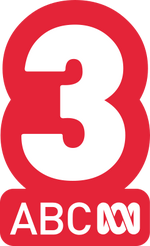 ABC Me, as a children's channel, began transmission on 4 December 2009 as ABC3 with a special called Countdown to 3. The channel broadcasts between 6am and 9pm (10pm on Friday nights).
The logo uses the number three "3" with an unknown font, with "ABC" written in a font called Bahnscrift, taken from ABC1 and ABC2's logos, used in 2008. This logo remained unchanged until 2016. However, the 2D Lissajous logo was reintroduced from the start, adopting it over 6 years before the rest of ABC TV.
ABC Me
2016–present
ABC3 underwent a major rebrand and changed its name to ABC Me on 19 September 2016. The channel also increases its focus on content for school age children and position itself as a entertainment network with syndicate applications and better use of mobile devices to interact with users.
As part of a major relaunch, this logo does not use any "ABC" text so the 2D Lissajous logo (surrounded by a circle) and the word "ME" are displayed permanently.