This article is being considered for protection.
You can discuss it at Talk:ABC News (Australian TV channel). This page should be protected for the following reason: Excessive vandalism.
ABC News 24
2010–2017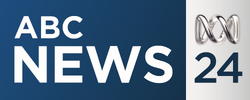 ABC News, a 24-hour news channel, began transmission on 22 July 2010 as ABC News 24.
ABC News
2017–present

The Australian Broadcasting Corporation announced that ABC News 24 and ABC NewsRadio would converge into a single ABC News brand on 10 April 2017. This is accompanied by the closure of now-redundant social media accounts, a new logo and a revitalised graphics package for the channel and news program.
Community content is available under
CC-BY-SA
unless otherwise noted.