ABC News 24
2010–2017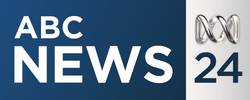 ABC News 24, a 24-hour news channel, began transmission on 22 July 2010. It was launched in high definition, replacing ABC TV HD. However, that channel was resurrected on 6 December 2016, and therefore ABC News 24 was reduced to a standard-definition broadcast on that day.
A new logo and graphics package for ABC News was unveiled at the same time, designed by BDA Creative of Munich, to be used by the new channel. The popular Gotham font was the on-screen typeface. It was later used by ABC1 between 2011 and 2014.
ABC News
2017–present

The Australian Broadcasting Corporation announced that ABC News 24 and ABC NewsRadio would converge into a single ABC News brand on 10 April 2017. This is accompanied by the closure of now-redundant social media accounts, a new logo and a revitalised graphics package for the ABC News channel (which was renamed from ABC News 24) and news program (but not the radio station).
As in 2010, the new graphics were designed by BDA Creative. They feature ABC Sans, the new bespoke corporate font of the ABC, which was adopted by the main ABC TV channel in February 2019. The theme music is largely similar to its predecessors from 2010 and 2005.