ABS-CBN TVplus (formerly known as Sky TV+ from 2011 to 2015 and also known as ABS-CBN TVplus Digital TV Receiver since 2021) is a digital TV set-top box brand and it was an encrypted digital terrestrial television service owned by ABS-CBN Corporation.
Sky TV+
2011–2015

ABS-CBN TVplus was soft launched as Sky TV+ on 2011 and ABS-CBN started a DTT test broadcast on Channel 43 while the company is still waiting for the National Telecommunications Commission's release of a draft implementing rules and regulations (IRR) for the Philippines' transition to digital television.
When they finally launched in February 11, 2015, Sky TV+ branding was dropped in favor of ABS-CBN TVplus to avoid any confusion with SkyCable. However, first batch of ABS-CBN TVplus being sold during first 3 months since its full launch were mostly a rebadged units of Sky TV+ digital TV set-top boxes but traces of its former branding can be found on its packaging (being covered by the ABS-CBN TVplus logo sticker), and also on its preinstalled original firmware.
ABS-CBN TVplus
2015–2020 (DTT service); 2021-present (Digital TV receiver only)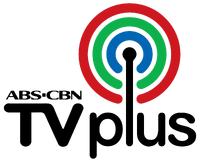 After NTC released the IRR for digital television in December 2014, ABS-CBN finally launched ABS-CBN TVplus on February 11, 2015. The set-top box itself later had a brand new look in 2016. The ABS-CBN TVplus set top box and its services have shut down on June 30, 2020 due to the alias cease-and-desist order (ACDO) issued by the National Telecommunications Commission.
During the congressional hearing for the renewal of ABS-CBN's broadcast franchise, ABS-CBN Corporation confirmed that they have stopped selling TVplus boxes in February 2020 after the media conglomerate's subsidiary and TVplus' parent, ABS-CBN Convergence failed to secure a separate legislative franchise during that same month.
In September 2021, its unsold inventory of the TVplus units were repackaged as ABS-CBN TVplus Digital TV Receiver, with a new packaging, removing any traces of ABS-CBN free-to-air digital channels and its Premium Channels including the "Ang Mahiwagang Black Box" tagline, and a new price that competes with a similar digital TV set-top boxes. These repackaged units are now advertised as a regular digital TV set-top box that receives any free-to-air digital channels.
Since early 2022, both logos of ABS-CBN TVplus Digital TV Receiver and Sulit TV also appeared on ABS-CBN Entertainment's rescan advisory being aired during Primetime Bida shows on A2Z and TV5. but since May in the same year, ABS-CBN TVplus started to advertise its product on most ABS-CBN programming that promotes not just the two channels but also TeleRadyo on A2Z Digital TV subchannel and PIE.
On January 5, 2022, the National Telecommunications Commission (NTC) awarded Advanced Media Broadcasting System and Swara Sug Media Corporation a provisional authority to operate for channel 43 and channel 16 frequencies that was formerly used for ABS-CBN TVplus service.
See Also
Part of Lopez Holdings Corporation
---
Predecessors:
ABS-CBN Broadcasting Corporation/ABS-CBN Corporation (Bolinao Electronics Corporation | Alto Broadcasting System/Alto Sales Corporation | Chronicle Broadcasting Network)
Non ABS-CBN-owned companies (Banahaw Broadcasting Corporation)
Successors:
ABS-CBN Broadcasting Corporation/ABS-CBN Corporation (People's Television Network (channel 4 space) | Radio Philippines Network (channel 9 space) | Advanced Media Broadcasting System (channel 2 space) | SMNI (channel 43 space))
---
Owner
Lopez Holdings Corporation (56.28%) | ABS-CBN Holdings Corporation (32.21%) | Public Ownership (42.80%)
---
Divisions
ABS-CBN Entertainment (Other) | ABS-CBN News and Current Affairs (Other) | CineMedia Group (Dreamscape Entertainment (On-Screen Logos) | Dreamscape Digital | Cosyne Multimedia) | iCONN | Rise Artists Studio | Star Creatives Television | Star Magic
---
Subsidiaries
ABS-CBN Global Ltd. | ABS-CBN International | ABS-CBN International Distribution | ABS-CBN Foundation, Inc. | ABS-CBN Themed Experiences | ABS-CBN Shared Service Center | All Youth Channels | Bantay Bata 163 | Bantay Kalikasan | Sagip Kapamilya | Knowledge Channel Foundation | Bayan Productions | Big Dipper | Creative Programs | The Chosen Bun
---
ABS-CBN Films
Star Cinema | Black Sheep Productions | Quantum Films | TFC at the Movies
---
TV Stations
DZOE-TV (Metro Manila)1 | DWET-TV2 | DZBB-TV3 | DWKC-DTV57
---
Television channels
Analog/Digital free-to-air channels
A2Z1 (Other) | TV52 | GMA Network3 | Knowledge Channel5 | PIE7
Cable/Satellite channels
ABS-CBN News Channel | Cinema One | Cine Mo! | Jeepney TV | Kapamilya Channel | Metro Channel | Myx | Radyo Patrol Davao | TeleRadyo | TeleRadyo Cebu
International channels
ANC Global | S+A Global | Cinema One Global | Myx TV | TFC
---
Telecommunications and digital media
ABS-CBN Digital Media | ABS-CBN TVplus | ABS-CBN TVplus Go | Destiny Cable | Sky Cable | Sky Fiber | Cignal6
---
Licensed products
ABS-CBN Publishing, Inc.
---
Streaming/Video on demand/Web TV
ABS-CBN Superview | iWant TFC | Kapamilya Online Live | Sky On Demand
---
YouTube Channels
ABS-CBN Entertainment | ABS-CBN News | ABS-CBN Lifestyle | ABS-CBN Star Cinema | ABS-CBN Talk | MYX Philippines | Push | Star Magic
---
Internet and Social Media
ABS-CBN Interactive | ABS-CBN News | Bayan Mo, Ipatrol Mo | Choose Philippines | DZMM.com.ph | Hero | Just Love Kids | KTX | One Music PH | Push.com.ph | PATROL.PH | Star Events | TrabaHanap.com
---
TV Productions and Partners
Broadcast Enterprises and Affiliated Media, Inc. | CBN Asia | GMA Network | TV5 | ZOE Broadcasting Network
---
Recording companies and other subsidiaries
Old School Records | Lodi Records | DNA Music | Star Music (Logo Variations | Other) | Star Magic Records | StarPop | Tarsier Records | TNT Records | ABS-CBN Philharmonic Orchestra
---
Inactive
Cinema One Premium HD
---
Former TV Productions and Subsidiaries
AMCARA Broadcasting Network | Probe Productions | TAPE Inc.
---
Former and Defunct
Asianovela Channel | ABS-CBN S+A (HD) | ABS-CBN TVplus | ABS-CBN TVplus Go | ABS-CBN (Logo Variations | Other) | ABS-CBNmobile | ABS-CBN Regional Channel | ABS-CBN Sports | The ABS-CBN Store | ABS-CBN Studio Experience | Balls/Balls HD | CgeTV | Hero | KidZania Manila | Kapamilya Box Office | Liga | LVN Pictures Inc. | Maxxx | Multiply | MOR Philippines | Movie Central | O Shopping4 | Tag | Velvet | Roadrunner Network, Inc. | Sky Direct | Skylight Films | Star Home Video | Yey! (Other)
---
Inactive Radio networks
ABS-CBN Radio
---
Inactive TV Stations
ABS-CBN Regional
DWWX-TV 2 (Metro Manila) | D-3-ZO-TV (North Luzon) | DZAD-TV (Southern Tagalog) | DYPR-TV (Palawan) | DZNC-TV (Bicol) | DYCB-TV (Central Visayas) | DYAB-TV (Eastern Visayas) | DYAF-TV (Panay) | DYXL-TV (Negros) | DXZT-TV (South Central Mindanao) | DXCS-TV (Cagayan De Oro) | DXAS-TV (Southern Mindanao) | DXLL-TV (Zamboanga)
---
Inactive Television channels
Analog free-to-air channels
ABS-CBN (Logo Variations | Other) | ABS-CBN S+A (HD)
Digital free-to-air channels
Asianovela Channel | Cine Mo! | Jeepney TV | Kapamilya Box Office | Knowledge Channel | Movie Central | Myx | O Shopping4 | TeleRadyo | Yey!
1Blocktime with ZOE Broadcasting Network
2Blocktime/Partnership with the TV5 Network, Inc. subsidiary of MediaQuest Holdings for the airing of FPJ: Da King, ASAP Natin' To, and Primetime Bida shows from 8:00 to 10:30pm
3Partnership with GMA Network for the airing of Star Cinema movies
4Joint venture with CJ ENM
5Blocktime with Broadcast Enterprises and Affiliated Media
6Owned by Cignal TV arm subsidiary of MediaQuest Holdings under the PLDT Beneficial Trust Fund
7In partnership with 917Ventures, Kroma Entertainment, and Broadcast Enterprises and Affiliated Media