This page only shows primary logo variants.
For other related logos and images, see:
1999–2003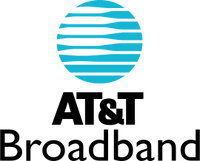 AT&T Broadband was the former cable division of AT&T.
On December 19, 2001, AT&T Broadband and Comcast announced that they will be merging as a decision was made by their respective Board of Directors. The value of the transaction was $72 billion and jointly had covered over 22 million subscribers across all United States. Originally, the name of the merged company was supposed to be AT&T Comcast Corporation with both companies providing 5 members for the Board of Directors, including 2 external members. In 2002, AT&T went through corporate restructuring. In November 2002, the deal was closed and Comcast acquired the division under the name "Comcast Corporation".
Fixed-line telecommunications
---
---
---
---
---
---