This page only shows primary logo variants.
For other related logos and images, see: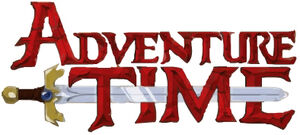 Before Adventure Time became a show on Cartoon Network, it was a pilot meant to become a show on Nickelodeon. The animated short was a part of Random! Cartoons on Nicktoons Network.

Adventure Time aired its first episode on April 5, 2010. The series concluded on September 3, 2018 after airing its tenth season.
External links