PacTel Celullar
19??–1994

AirTouch was initially a cellular network division of Pacific Telesis named PacTel Celullar.
US West Cellular
1994(?)–1996

AirTouch
1994–2000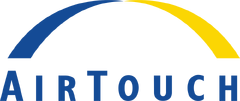 In 1994, PacTel Cellular became an independent company and subsequently renamed AirTouch Communications Inc. The same year, US West joined the venture by merging its cellular division into the company.
AirTouch merged with Vodafone in 1999 to form Vodafone Airtouch plc (renamed back to Vodafone in 2000). Its US cellular network retained the AirTouch name until 2000 when Vodafone and Bell Atlantic (now Verizon Communications) agreed to combine their wireless services into Verizon Wireless.