Contents

2007–2010
2010–2017
2017–present
2007–2010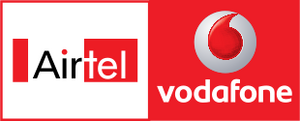 2010–2017

2017–present

Indian operations:
Mobile telecommunications: Airtel | Tata Docomo1 | Satellite DTH television: Airtel Digital TV | Internet video box/stick: Airtel Xstream
Mobile apps: Video-on-demand and mobile live TV: Airtel Xstream | Music streaming: Wynk Music
---
Overseas operations:
Bangladesh: Airtel (Robi)2 | Channel Islands: Airtel-Vodafone3 | Sri Lanka: Airtel (Sri Lanka)
Africa: Airtel4 (Chad, DR Congo, Gabon, Ghana5a, Kenya, Malawi, Madagascar, Niger, Nigeria, Rep. Congo, Rwanda5b, Seychelles, Tanzania, Uganda and Zambia)
Former operations6: Burkina Faso | Sierra Leone
---
Defunct operations: Telenor (India)7
---
1Formerly a joint venture between Tata Group and NTT docomo. Acquired from Tata by Airtel.
2Joint venture with Axiata.
3Joint venture with Vodafone.
4Acquired from Zain.
5aJoint venture with Millicom.
5bAcquisition of Tigo Rwanda from Millicom is pending.
6Acquired by Orange S.A..
7Acquired from Telenor and closed.