1975–1988
This one was the first logo of Aktuelle Kamera. It uses the stroke on "a" to draw the "k", whose second stroke tries to resemble a satellite.
1988–1989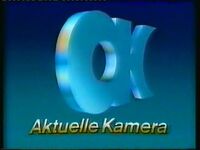 In the later part of the 1980s, Aktuelle Kamera switched to a computer animated intro with a redesigned logo. This intro was the one used by Aktuelle Kamera during the fall of the Berlin Wall and was seen repeatedly in the movie Goodbye Lenin.
1989–1991

Running up to the German reunification, Aktuelle Kamera was rebranded. The main edition became AK am Abend, and the edition of DFF-2 became AK Zwo. The rest of editions were called AK Nachrichten.
1991–1992
When the first East German television channel was replaced by Das Erste in December 1990, the old television broadcaster of the GDR continued on the old second channel for slightly more than a year. The name "Aktuelle Kamera" was retired, and newscasts were from thereon called Aktuell.
Deutscher Fernsehfunk ended on December 31, 1991, as did the newscast.