1989–2006
2006–2017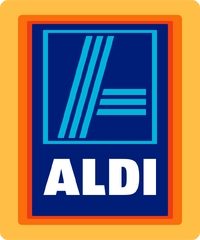 There are minor changes, such as the shades of the colours used are now lighter, the font has changed, and the lines are thinner, and a lot less slanted.
2017–present
Aldi began using this logo in the UK on 28 August 2017. As of 2019, most stores now have now replaced the previous logo with this one.
Community content is available under
CC-BY-SA
unless otherwise noted.