(One intermediate revision by one other user not shown)
Line 1:
Line 1:
 
+

'''Alpha TV''', launched in 1999 as a replacement of Skai TV (not to be confused with the newer [[Skai TV]], 2006–present), is one of Greece's most-watched television channels. It was owned by the [[RTL Group]] from 2008 to 2012.

 

*[http://www2.tv-ark.org.uk/International/greece/alpha.html TV Ark]

 

*[http://www2.tv-ark.org.uk/International/greece/alpha.html TV Ark]

 
 
Line 10:
Line 11:
 
 
 

=== 1993-1998 ===

 

=== 1993-1998 ===

−

[[File:ΣΚΑΪ (1993-1998).png|centre|thumb|87x87px]]

+

[[File:ΣΚΑΪ (1993-1998).png|centre|thumb|87x87px]]

−

In September 1993, TV Plus was renamed to Skai TV

+

In September 1993, TV Plus was renamed to Skai TV

 
 
 

=== 1998-1999 ===

 

=== 1998-1999 ===

−

[[File:1995-1997.jpg|centre|thumb|89x89px]]

+

[[File:1995-1997.jpg|centre|thumb|89x89px]]

−

Skai TV introduced a new logo on December 10, 1998.

+

Skai TV introduced a new logo on 10 1998.

 
 
 

== Alpha-Sky ==

 

== Alpha-Sky ==

 
 
 

=== 1999 ===

 

=== 1999 ===

−

[[File:Alpha Sky.jpg|centre|thumb|111x111px]]On September 27, 1999, Skai TV was renamed to Alpha-Sky, but only for two month.

+

[[File:Alpha Sky.jpg|centre|thumb|111x111px]]

 
+

On 27 September 1999, Skai TV was renamed to Alpha-Sky, but this lasted only for a month.

 
 
 

==Alpha TV==

 

==Alpha TV==

 

===1999-2003===

 

===1999-2003===

−

[[File:Alpha2003.gif|center]]On October 25, 1999, Alpha-Sky was renamed to Alpha TV.

+

[[File:Alpha2003.gif|center]]

 
+

On 25 October 1999, Alpha-Sky was renamed to Alpha TV following a change in ownership.

 
 
 

===2003-2004===

 

===2003-2004===

−

[[File:Alpha 2004.jpg|centre|thumb|132x132px]]Alpha TV introduced a new milky-way-logo on March 3, 2003.

+

[[File:Alpha 2004.jpg|centre|thumb|132x132px]]

 
+

Alpha TV introduced a new milky-way-logo on 3 March 2003.

 
 
 

===2004-2005===

 

===2004-2005===

−

[[File:Alpha2005.png|center]]On September 20, 2004, Alpha TV adopted its blue bubble-cube-logo.

+

[[File:Alpha2005.png|center]]

 
+

On 20 September 2004, Alpha TV adopted its blue bubble-cube-logo, which lasted for almost exactly a year.

 
 
 

=== 2005-2007 ===

 

=== 2005-2007 ===

−

[[File:Alpha2008.png|center]]

+

[[File:Alpha2008.png|center]]

 
+

On 19 September 2005, Alpha TV introduced its red "A" logo. This logo has been used to the present day, although in different forms.

−
 
−

On September 19, 2005, Alpha TV introduced its red "A" logo.

 
 
 
 

=== 2007-2009 ===

 

=== 2007-2009 ===

−

[[File:Alpha TV logo.svg|150px|center]]Alpha TV received another new logo in September 10, 2007.

+

[[File:Alpha TV logo.svg|150px|center]]

 
+

Alpha TV received another new logo in 10 September 2007.

 
 
 

=== 2009-2013 ===

 

=== 2009-2013 ===

−

[[File:Alpha2010.png|center]]Alpha TV was rebranded with a new look and by that, yet another new logo was launched on December 18, 2009.

+

[[File:Alpha2010.png|center]]

 
+

On 18 December 2009, Alpha TV received yet another new logo and graphics package.

 
 
 

=== 2013-present ===

 

=== 2013-present ===

−

[[File:Alpha2013.svg|150px|center]]Alpha TV's current logo was introduced on September 30, 2013.{{RTL Group}}

+

[[File:Alpha2013.svg|150px|center]]Alpha TV's current logo was introduced on September 2013.

 
+

* [http://brandingsource.blogspot.com/2013/10/new-look-alpha-tv.html The Branding Source]

 
+

* [https://www.underconsideration.com/brandnew/archives/new_logo_and_on-air_look_for_alpha_tv_by_nomint_and_tony_zagoraios.php Brand New]<br>{{Greek terrestrial TV channels}}{{RTL Group}}

 

[[Category:Television channels in Greece]]

 

[[Category:Television channels in Greece]]

 

[[Category:RTL Group]]

 

[[Category:RTL Group]]

 

[[Category:Greek-language television channels]]

 

[[Category:Greek-language television channels]]

−

[[Category:2003]]

+

[[Category:]]

−

[[Category:Bertelsmann]]

 
---
Revision as of 10:02, 6 December 2018
Alpha TV, launched in 1999 as a replacement of Skai TV (not to be confused with the newer Skai TV, 2006–present), is one of Greece's most-watched television channels. It was owned by the RTL Group from 2008 to 2012.
TV Plus
1988-1993
Alpha TV was launched in October 1988 as TV Plus Piraeus. By June 1989, the channel changed its name to TV Plus, but the logo did not change this time.
Skai TV
1993-1998
In September 1993, TV Plus was renamed to Skai TV.
1998-1999
Skai TV introduced a new logo on 10 December 1998.
Alpha-Sky
1999
On 27 September 1999, Skai TV was renamed to Alpha-Sky, but this lasted only for a month.
Alpha TV
1999-2003
On 25 October 1999, Alpha-Sky was renamed to Alpha TV following a change in ownership.
2003-2004
Alpha TV introduced a new milky-way-logo on 3 March 2003.
2004-2005
On 20 September 2004, Alpha TV adopted its blue bubble-cube-logo, which lasted for almost exactly a year.
2005-2007

On 19 September 2005, Alpha TV introduced its red "A" logo. This logo has been used to the present day, although in different forms.
2007-2009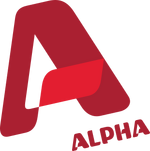 Alpha TV received another new logo in 10 September 2007.
2009-2013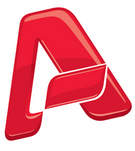 On 18 December 2009, Alpha TV received yet another new logo and graphics package.
2013-present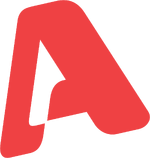 Alpha TV's current logo was introduced on 30 September 2013.
Major terrestrial television channels in Greece
The following television channels hold a nationwide general content television broadcasting licence and are thus the most-viewed TV channels in Greece.

---
Current licence-holders: ANT1 (HD) | Alpha TV (HD) | Star (HD) | Skai (HD) | Open TV (HD) | Mega (HD) | Makedonia TV (HD)1
---
1Makedonia TV is part of the Antenna Group. The licence is applicable for both ANT1 and Makedonia TV.

Community content is available under
CC-BY-SA
unless otherwise noted.