Community Innovations
2002-2006

Community Innovations was established in 1995 and began commercial operations in 2002. It served as Ayala Land's upscale residential development brand targeting young urban achievers and at times, their families.
2006-2008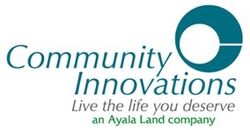 Community Innovations saw a refreshed logo at the heels of Ayala Land's own rebranding in 2006, which adopted Optima for its font, used blue as its color, had a new circle symbol on its side, and adopted a new slogan: "Live the life you deserve", which it would continue to use well through its rebranding until 2011. It also added the phrase "an AyalaLand company".
Alveo Land
2008-present

As the qualities that defined the brand as a real estate company had likewise risen to a whole new level-sharper foresight, unparalleled excellence, and total commitment, in 2008, it changed its name from Community Innovations to one that reaches out to a wider aspect of living, Alveo Land Corp. Alveo, derived from the Latin word Salveo, means "to be well."
Alveo's logo carried on several facets of the designs of its previous logo as Community Innovations: the blue color, the phrase "an AyalaLand company", and the slogan "Live the life you deserve", which was used until 2011, when Alveo replaced it with "Innovating the way you live", a homage to Alveo's former name, Community Innovations.
Community content is available under
CC-BY-SA
unless otherwise noted.