Contents

2014–2019
2019–2020
2020–present
2014–2019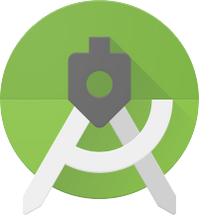 Android Studio was released in 2014. An SDK to create Android apps and an emulator to test them were included.
2019–2020
The green color has changed to fit with Android's new logo. This has been used since a Canary build of 3.6.
2020–present
Since Android Studio 4.0.1, Android Studio's logo got entirely rebranded.