2003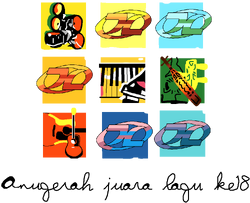 Putra Indoor Stadium, (Bukit Jalil, Kuala Lumpur) - 28 December 2003
Misha Omar won with her song "Bunga-bunga Cinta", composed by Adnan Abu Hassan.
This was the last edition to be held in its corresponding year on December. It was also the first edition to be held in Putra Indoor Stadium (later renamed Axiata Arena for sponsorship reasons).