2021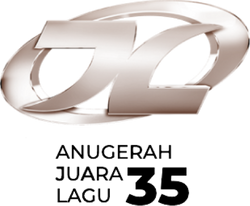 Auditorium MBSA (Shah Alam, Selangor) - 14 March 2021
Kaka Azraff, K-Clique member Noki and Loca B (the latter two were married) won with their song "Gila", composed by the aforementioned couple and Ezra Kong.
The logo and the graphics for this edition were unveiled during a media trial on 10 January 2021. The logo somewhat bares a resemblance to the logo of the previous edition, since both had the generic AJL logo with a metallic texture on it.
Two days later after the media trial on 12 January, TV3 announced that Anugerah Juara Lagu 35 will be postponed from 7 February, which the edition was planned to be held, to an undefined date, due to the ongoing COVID-19 pandemic.
However, on 16 February, Anugerah Juara Lagu 35 was rescheduled to 14 March according to a new promo for the edition, thus making it the latest edition to be held, beating Anugerah Juara Lagu 32 by one month and thirty one days.
Anugerah Juara Lagu 35 is the first edition to be hosted in Shah Alam since Anugerah Juara Lagu 30 and the first edition in the Auditorium MBSA since Juara Lagu 2001.