Contents

1976–1977
1977–1999
1998–present
1976–1977
| | |
| --- | --- |
| | SVG NEEDED |
The first Apple Computer logo, drawn by co-founder Ronald Wayne, depicts Isaac Newton under an apple tree. The border reads: Newton - - - - "A Mind Forever Voyaging Through Strange Seas of Thought - - - Alone."
1977–present
1977–1999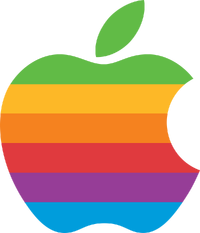 Created by Rob Janoff, the now-iconic rainbow Apple logo was used from April 1977 until August 26, 1999. According to Steve Jobs, the company's name was inspired by his visit to an apple farm while on a fruitarian diet. Since the logo's introduction, the design itself has remained unchanged. This logo is still referenced in various advertisments.
"One of the deep mysteries to me is our logo, the symbol of lust and knowledge, bitten into, all crossed with the colors of the rainbow in the wrong order. You couldn't dream a more appropriate logo: lust, knowledge, hope and anarchy."
— Jean-Louis Gassée, former executive at Apple
1998–present

| | |
| --- | --- |
| Typography:  | San Francisco (corporate) (2017-present) |

| | |
| --- | --- |
| Launched:  | August 15, 1998 |
In 1998, coinciding with the iMac G3's release, Apple ditched the rainbow color scheme. This version had previously been used as an alternate variant of the original 1977 logo, including on packaging.
External links