Contents

1989-1994
1994-2008
2008-present
Arte Radiotelevisivo Argentino S.A., also known as Artear is a company belonging to the Grupo Clarín, dedicated to the production and broadcast of various television channels both open and cable television. Its content production center, opened in 2017, became the most advanced in Latin America in both dimensions and technology.
1989-1994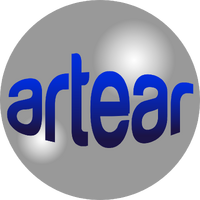 The first logo of the nascent corporation was a gray sphere inside which are the letters "artear" attached to it and of a degraded blue color.
1994-2008
Then, in June 1994, with the change of the Canal 13 logo, the logo adopts the sun logo of the aforementioned channel and below, the name of the corporation and the name of the country of origin.
2008-present

With the change of the image of Canal 13 in 2008, a new logo is adopted, this time of the letters "artear" with the new typeface used in the aforementioned channel (Interstate Normal) of purple and gray colors, both degraded.