Contents

1996–2003
2003–2012
2012–present
Astro (abbreviation form of All-Asia Satellite Television and Radio Operator) is a Malaysian satellite subscription television and radio service established on 1 June 1996. It is owned by Astro Holdings Sdn. Bhd., part of Khazanah Nasional.
Astro's rivalling television providers are Unifi TV, an IPTV service owned by Telekom Malaysia, and MyFreeview, a digital terrestrial television service owned by MYTV Broadcasting, which is owned by Altel Communications.
1996–2003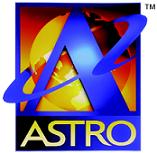 2003–present
2003–2012
Introduced in 1 July 2003, Astro have been using this logo for seemingly seventeen years. This one uses the Gotham Bold font for "astro", coloured in dark blue and underneath it was a red double curve strip.
2012–present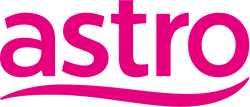 Later in 2012, Astro slightly tweaked its wordmark and coloured the entire logo to pink.
External links