Una Ka BAI!
Una Ka BAI!: Balita At Iba pa!
2007-2010
Una Ka BAI!: Una sa Balita
2010-2014
Una Ka BAI!
2014-April 24, 2015
Without saying goodbyes after 7 years, it had their final broadcast last April 24, 2015, as part of the streamlining of regional operations of GMA, after the broadcast, the on-air staff of the program were retrenched by the network's management.
At Home with GMA RTV
June 1, 2020-Present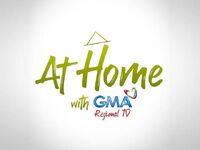 GMA Davao would not have a morning news program regional morning newscast until 5 years later, with the launch of At Home with GMA Regional TV on June 1, 2020.