Atari, SA (formerly Infogrames Entertainment SA) is a French holding company who owns Atari, Inc. and Atari Interactive, the latter being the owner of the Atari trademark.
Infogrames Entertainment, SA
1983–1984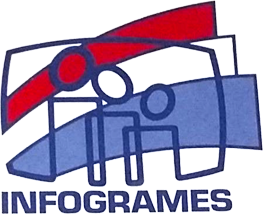 1984–1996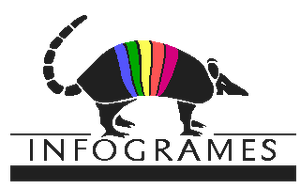 The logo is an armadillo with the colors blue, green, yellow, red and fuchsia on its back.
1996–2000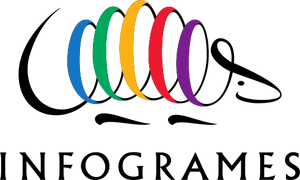 The logo is now more stylized.
2000–2009
| | |
| --- | --- |
| Typography:  | Eurostile Bold |
The logo is slightly modified, there are no legs and a shadow is added. "Infogrames" is now on the middle of the Armadillo. This logo was used on games until 2003, when all of Infogrames' subsidiaries and divisions were rebranded Atari. The company itself was still called Infogrames Entertainment, SA. until 2009, when it also changed its name to an Atari branded name, that being Atari, SA.
Atari, SA
2009–2010
In October 2008, Infogrames purchased the minority shareholders of Atari, Inc., meaning they owned 100% of all the US owned Atari businesses. Due to this, the shareholders of Infogrames and the US Atari companies all agreed to rename Infogrames Entertainment SA to Atari, SA in May 2009, taking advantage of the ownership of the Atari brand name.
2010–present