This page only shows primary logo variants.
For other related logos and images, see:
Contents

1909 (prelaunch)
1909
1909–1932
1932–1949
1949–1969
1969
1969–1995 (badge logo)
1969–1995
1978–1995
1995–2009
2009–2016
2016–present
Audi (first era)
1909 (pre-launch)
1909
1909–1932
Auto Union
1932–1949
This logo shows Audi in a union with 3 other German car brands that formed Auto Union: DKW, Horch and Wanderer. As time went by, the logo evolved, yet has since always continued with the four rings, symbolizing the strength of the union.
1949–1969
Audi NSU
1969
Audi (second era)
1969–1995 (badge logo)
1969–1995
1978–1995
1995–present
1995–2009
2009–2016
The distinctive wordmark was removed and replaced with a left-aligned wordmark in the new Audi Type corporate typeface.
2016–present
The wordmark was removed altogether and the rings are now rendered in plain black, rather than in a metallic 3D effect. The Audi wordmark no longer appears with the four rings, but instead with the company slogan; Vorsprung durch Technik.
External links
See also
Former Audi Mergers
Auto Union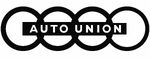 ---
Audi NSU
Audi | NSU
Community content is available under
CC-BY-SA
unless otherwise noted.