LPHI (Laguna Properties Holdings, Inc.)
1990–2006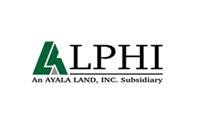 LPHI was formed in 1991 and was originally established to provide housing needs for employees and junior executives of its parent company, Ayala Land, as well as in its industrial park development, the Laguna Technopark. Its logo mark, which was made up of the letters L and H, wittingly formed the letter A - a strong association to the parent company, Ayala Land.
Avida Land
2006–present
By July 28, 2006, LPHI had gone beyond Laguna, with residential projects, in key areas like Laguna, Cavite, Paranaque, Batangas, Quezon, and Bicol, to name a few.
When Ayala Land rebranded and revamped its logo in 2006, LPHI - by then having expanded beyond Laguna - was renamed Avida Land. The newly-renamed company's logo had the word mark of Avida's name in Optima font with a small leaf-like object on top of the I of the name. Avida also added in a new slogan, "Affordable living at its best", which underscores Avida's new commitment: to provide affordable housing for middle-class Filipinos. It was to be used until the late-2010s.
Avida's name is a fusion of the Latin words "ave" (celebrate) and "vida" (life). Therefore, Avida's name means "celebrate life."
Community content is available under
CC-BY-SA
unless otherwise noted.