1968–present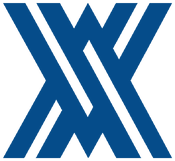 The present Ayala Corporation was established in 1968, as the successor to the partnership company Ayala y Compañía (erstwhile known by various names such as Casa Roxas and Casa Ayala) whose roots date back to 1834 (in turn, the present company assumes the history of its pre-1968 precursor).
The now-iconic logo launched at the same time is composed of a stylized pair of double-line As, interlocking at the center. These are actually a stylized A, the first letter of the company's name, rendered four times in blue in free space. Within the blue color are four, straight white lines which suggest movement either pointing to or emanating from the core. It was created by the late Fernando Zobel.
1968-2004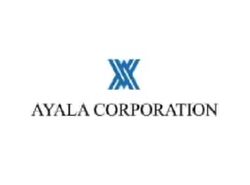 From 1968 to 2004, though, Ayala used the symbol and Ayala Corporation in different typefaces such as the one seen above.
2004–present

In 2004, as Ayala turned 170, it launched a refreshed logo which, aside from maintaining the symbol, adds a new, proper "Ayala" word mark in a warm color tone representing vigor and eagerness to continue "pioneering the future." And from that year onwards, the company began to be referred simply as "Ayala", except for legal documents where it is still called Ayala Corporation.
Two years later, for Ayala Land, a green version of that logo was released.
Alternate variant
Community content is available under
CC-BY-SA
unless otherwise noted.