This page only shows primary logo variants.
For other related logos and images, see:
2002–present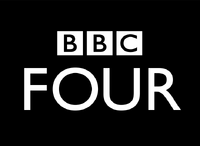 BBC Four began transmission on 2 March 2002. It is the only logo of BBC's three main channels that still use the Gill Sans font for their channel logo. BBC One uses a custom font, BBC Two uses Avenir, BBC Three never used Gill Sans, it used Helvetica and then Kerater.
As of now, this logo and these idents have had the longest lifespan of any on a BBC channel lasting 19 years and 5 months.