BBC 1 Wales (first era)
1964-1966
BBC One Wales officially launched on the 9th of February 1964. The BBC kept using the globe across the network, and Wales would not officially have its own regional ident until 1968. Before 1964, regional newscasts for Wales were done by BBC West, headquartered in Bristol. Idents were made for the Wales region for this occasion.
1966-1968
BBC 1 Cymru Wales
1968-1969
The BBC's globe ident was also used alongside a new ident, made specifically for the Wales region.
1969-1974
BBC Cymru Wales
1974-1981
In 1974, BBC Wales decided to incorporate the "Cymru Wales" branding into the globe itself.
1981-1982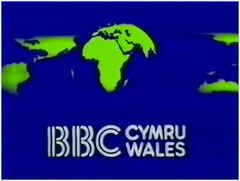 BBC Wales
The 'BBC Cymru' branding was dropped because of the launch of S4C.
1982-1985, 2015
In 2015, an HD remastered throwback variation was used preceding Wales in the Eighties (2015) on BBC One Wales.
BBC 1 Wales (second era)
1985-1991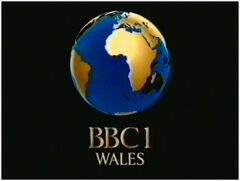 BBC Wales on 1
1991-1997
First version of the logo used between 1991-94.
Revised logo used from 1994-97.
A special ident for coverage of the opening of the Second Severn Crossing on 5 June 1996.
BBC One Wales
1997–2002

2002–2006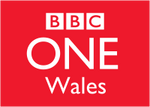 2006–present

Community content is available under
CC-BY-SA
unless otherwise noted.