1995–1997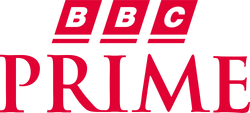 BBC Prime's first logo. "Prime" is written in a font called Trajan Bold.
1997-2006 (idents), 1997–2009 (on-screen bug)
When the BBC changed their corporate logo on 4 October 1997, they also changed the logos of all their channels, including BBC Prime. In December 2000, a new look was introduced.
2006-2009
With the cancellation of BBC Learning on 23 July 2006, BBC Prime rebranded, which included a new logo. The 1997 logo was still used as the on-screen bug. On 11 November 2009, BBC Prime was replaced by BBC Entertainment.
External links