This page only shows primary logo variants.
For other related logos and images, see:
Contents

2003–2008, 2021–present
2008–2016
2016–present
2003–2008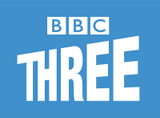 BBC Three was launched on 9 February 2003, replacing BBC Choice. "THREE" is in a font called 'Helvetica'. The logo was designed by Lambie-Nairn.
2008–2016
A new and modern logo for the channel was introduced on 12 February 2008. The word three is now pink and it bears a geometric lowercase appearance. In October 2013, the channel kept this logo, but the on-screen presentation was given a refresh, and this included new idents, graphics and continuity.
The channel was broadcast 24 hours a day during the London Olympics in 2012.
2016–present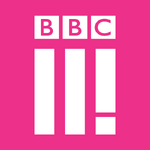 As part as the BBC's plan to move BBC Three online on 16 February a new logo was launched on 4 January 2016. According to BBC Three's head of marketing Nikki Carr, each pillar has meaning as she states, "The first is 'make me think'... The second is 'make me laugh'... The third, the exclamation mark, is 'give me a voice', which is what we will do for young people.".
Reactions were mixed to the new logo with some interpreting it as 'BBC 2!' or 'BBC 11!'. Some viewers noted a scene from a BBC-centralised documentary called W1A, where a design consultant suggests the BBC change their logo to something similar to the new logo. BBC Three released a short video on their YouTube page joking that the video was a direct inspiration. The logo was designed by Red Bee Media.
On 11 February 2019, the BBC confirmed that BBC Three would return to TV, but as a block from Monday to Wednesday at 10:35pm on BBC One from 4 March.
Community content is available under
CC-BY-SA
unless otherwise noted.