Banco Ganadero
1956—1996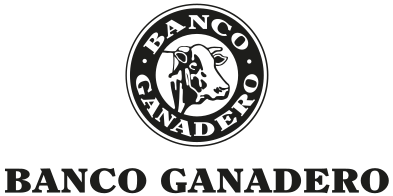 The Banco Ganadero (Cattle Risers' Bank) was founded in 1956, with the participation of 69% of individuals, 30% of the Colombian Government and 1% of the Caja Agraria as a way to finance the Colombian agricultural sector with emphasis on the cattle rising sector. and in 1992 the bank was privatized.
BBV Banco Ganadero
1996—2000
In 1996 Banco Ganadero was acquired by the Spanish financial conglomerate Banco Bilbao Vizcaya - BBV (now BBVA).
BBVA Banco Ganadero
2000—2004
This logo and name were adopted after BBV acquired Banco Argentaria in Spain and forming BBVA.
BBVA Colombia
2004—2019

In 2004 the bank adopted the name BBVA as its public name, and in 2006 it merged with Granahorrar.
2019—present