BNSF Railway (full name as Burlington Northern Santa Fe) is the American railroad company serving the connecting railroads from Central to Western US. It was formed in 1995 by the merger between Burlington Northern Railway Company and the Santa Fe Railway Company, and is presently acquired by Warren Buffett's Berkshire Hathaway in February 2, 2010.
1996-2005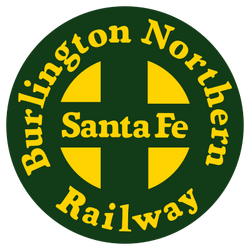 This logo, the first for Burlington Northern Santa Fe Railway, is derived from the Atchison Topeka & Santa fe Railway logo.
2005-present

On January 24, 2005, the company officially changed their name to "BNSF Railway". With the name change, that also meant a change to the logo. That change resulted in this new logo.