Bagdasarian Film Corporation
1961–1962, 1990s
Bagdasarian Productions
1981–1984
1984–1989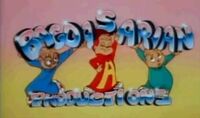 1989–1995
2011
2015–present

After a 25 year hiatus, Bagdasarian Productions unveiled a new logo for the premiere of ALVINNN!!! and the Chipmunks on March 30, 2015.
Notes
Although Bagdasarian is an overall independent studio, it didn't release The Chipmunk Adventure on its own.  It once had a distribution deal with The Samuel Goldwyn Company, but during the theatrical and DVD releases only, as Bagdasarian fully owns that title on Blu-Ray.
Bagdasarian Productions only ever produced the Chipmunks franchise, and has never made a single other title.