Campus Radio
1992–2002
1998–2002
In 1992, Campus Aircheck was opened as an institution for future radio DJs to hire on the said FM station and the first school on the air.
In 1998, at New Year's Eve, the top twenty songs of the year were played until the stroke of midnight. Top 20 at 12 is the longest-running chart show in Philippine FM history. Its Manila edition has been shelved to make way for the station's reformat as Barangay LS 97.1, while for a time it has been included as standard programming in RGMA's provincial stations, albeit the chart listings are local.
2002
2002

–

2003
2003

–

2004
2004

–

2008

2008

–

2009
On January 16, 2008 at around 6 pm, the logo update. In this logo, a microphone named 'Mike' wearing a red hat and in a star actor-looking smiley teeth, the text Campus was in a university font and launched its new tagline, Ayos!, which is also the tagline for RGMA's provincial Campus Radio stations. That same day, almost all of the station's current jocks who were also from the former Campus Radio format, and after years of loyal service to the GMA Network, were summarily dismissed by Mike Enriquez and replaced unceremoniously by jocks from RGMA provincial radio stations as well as jocks from other masa stations. Choosing to ignore the veteran staff's improving ratings, Enriquez deemed them unfit to take the format to number one overall in the masa ratings game. The only logo not to use is DYRT 99.5.
2009

–

2011
2011

–

2014
Barangay FM
2014

–

2017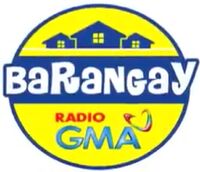 On February 17, 2014, Barangay LS 97.1 was rebranded with reformatted programs, new jingle, a new logo & a new slogan called "Isang Bansa, Isang Barangay". Also, 14 provincial FM radio stations owned by Radio GMA formerly named as Campus Radio (including 99.5 RT for Cebu, 103.5 Wow FM for Davao and Super Radyo DYRU 92.9 for Kalibo) finally adopted the Barangay FM branding (and DYRU was reformatted from a news & public affairs station into a Hot AC station to pave way for station's reformat; along with other FM stations).
2017–2019
In December 2017, Barangay FM launched its new logo.
2019–present
Owner
GMA Holdings Inc. (25.17%) | Group Management and Development, Inc. (23.47%) | FLG Management and Development Corporation (20.01%) | M.A. Jimenez Enterprises (13.49%) | Television International Corporation (9.94%)
---
Parent
GMA Holdings Inc.
---
Divisions
GMA Artist Center | GMA Entertainment Group | GMA International | GMA News and Public Affairs | GMA Regional TV | GMA Sports | Radio GMA (RGMA) | Synergy
---
Subsidiaries
Alta Productions Group | Citynet Network Marketing and Productions | GMA Kapuso Foundation | Script2010, Inc. | GMA Worldwide, Inc.
---
GMA Entertainment Group
AltG Records | RGMA Marketing and Productions, Inc. (GMA Music) | GMA Music and Home Video | GMA Drama
---
GMA Network Films, Inc.
Backyard Productions | GMA Pictures
---
Affiliate Film & TV productions and TV studio partners
CBN Asia | M-Zet TV Productions Inc. | OctoArts Films | TAPE Inc.
---
Telecommunications and digital media
GMA Affordabox (GMA Now) | My-HD | MyGMA | GMA New Media | Digify Inc.
---
Licensed products
GMA Brand Talk | GMA Marketing and Productions | GMA Licensing
---
TV Stations
GMA Regional TV
Analog TV Stations
DZBB-TV 7 (Metro Manila, Pampanga, Tarlac, Bulacan, Rizal, Cavite, Laguna) | (North Central Luzon: D-5-AS-TV 5/DWBC-TV 48 | DWEA-TV 10) | (Southern Luzon: D-12-ZB-TV 12 | DWAI-TV 7) | (Western Visayas: DYXX-TV 6 | DYGM-TV 13) | DYSS-TV 7 (Central Eastern Visayas) | (North, Central and Southern Mindanao: DXJC-TV 35 | DXMJ-TV 5 | DXBG-TV 8)
Digital TV Stations
DZBB-TV 15 | DWEA-TV 38 (North Central Luzon) | D-12-ZB-TV 32 (Batangas) | DYXX-TV 33 (Iloilo) | DYSS-TV 26 (Cebu) | DXMJ-TV 37 (Davao)
---
Television channels
Free-to-air channels
GMA Network | GTV
Cable/satellite and Digital channels
DepEd TV4 | Hallypop1 | Heart of Asia | I Heart Movies
International channels
GMA Life TV | GMA News TV | GMA Pinoy TV
---
Radio networks
Radio GMA (RGMA)
---
YouTube Channels
GMA Artist Center | GMA Brand Talk | GMA Network | GMA News | GMA Playground | GMA Playlist | GMA Public Affairs | GMA Regional TV | GMA Sports | GMA YoüLOL
---
Web TV, Internet and Social media
GMA News Online | GMA On Demand | IMReady | GETS | Philippine Entertainment Portal | SPIN.Ph | YouScoop

---
Inactive
Scenarios, Inc.
---
Former TV Productions
Probe Productions | ZOE Broadcasting Network

---
Defunct
Fox Filipino2 | GMAQuest | INQ7.net3
1Joint venture with Jungo TV.
2Joint venture with The Walt Disney Company.
3Former Joint venture with Philippine Daily Inquirer.
4Afffiliate with Department of Education, partnership.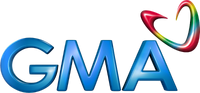 Headquarters:
GMA Network Center, EDSA corner Timog Ave., Diliman, Quezon City, Philippines
Barangay FM
Metro Manila
---
---
---
---
---
---
Community content is available under
CC-BY-SA
unless otherwise noted.