BellSouth Telecommunications was the Regional Bell Operating Company which took over Southern Bell and South Central Bell as part of the Bell System divestiture of 1983. The company initially used the Southern Bell/South Central Brands (but with a BellSouth byline in the logos) until 1995, when all companies were rebranded to use the BellSouth brand.
The company was purchased by AT&T in 2007.
1983–1992

The initial BellSouth logo using the standard Bell System typeface used from 1984 to 1992.
1992–2007
In 1992, BellSouth changed their typeface to an all caps, italicized one, with the Bell symbol being shrunk to match it (or sometimes not used). This was used from 1992 (while the typeface was used in the operating companies' byline since '89) to 2007 when it was rebranded as AT&T.
Fixed-line telecommunications:
---
---
---
---
---
---
---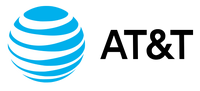 Community content is available under
CC-BY-SA
unless otherwise noted.