1877–1900
1900–1921
1921–1939
1939–1964
1964–1969
This is still used at the Milwaukee location.
1969–1984
This is the final version of the Bell logo and was adopted on October 12, 1969. It was created by Saul Bass and would also be used for Western Electric Company. Bell dissolved in February 13, 1984, but AT&T stayed. This logo continued to be used by the seven "Baby Bell" companies spun off of AT&T/Bell System.
See also
Fixed-line telecommunications:
---
---
---
---
---
---
---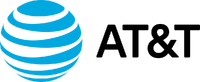 Community content is available under
CC-BY-SA
unless otherwise noted.