Contents

2004–2007
2007–2014
2014–2015
The Biography Channel Australia
2004–2007
Bio was launched around 2004 as The Biography Channel Australia.
Bio
2007–2014
In 2007, The Biography Channel rebranded to Bio, as the shortening of its name.
2014–2015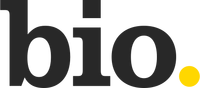 In 2014, the channel rebranded with a new on-air look, logo and programming. In addition, the channel moved from channel 117 to channel 133. On 1 November 2015, the channel closed, ceasing transmission at 4am, with selected titles moved to other Foxtel-owned channels.