Contents

2006–2008
2008–2012
2012–November 2015
2006–2008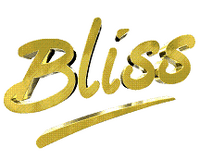 Bliss replaced The Amp in March 2006. It aired popular beloved blissful music, unlike the pop songs on the other radio channels. The logo was gold with a shiny brush handwriting detail and a roughly drawn strip underneath.
2008–2012

In 2008, CSC Media Group relaunched Bliss after it became unavailable to watch for a few months. The logo was white with a blue tinted outline and separated letters.
2012–November 2015

In 2012, a volunteer posted to the media company about developing a new logo for Bliss. The logo kept the fading baby blue but there were a few copyright issues with this logo, as it looks too similar to the logo of a popular breastfeeding brand. In November 2015, Bliss was losing popularity and wasn't making enough money to stay up so the company had to be shut down.
Community content is available under
CC-BY-SA
unless otherwise noted.