For the US programme, see: Blockbusters (US). For the UK spin-off series, see:Champion Blockbusters. For the video company, see: Blockbuster.
1983–1986
Blockbusters is a general knowledge game show. The first ten series were broadcast on ITV, produced by Central in association with Talbot Television.
1987–1995

An eleventh series was produced for Sky One in 1994 which was also broadcast by a select few ITV regions.
1997

In 1997, Fremantle produced a new series for BBC Two.
2000–2001
A second revival by BSkyB was broadcast on Sky One during 2000 and 2001, produced by Grundy.
2012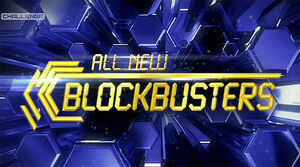 A third revival by BSkyB was broadcast on its 'retro gameshow channel' Challenge, produced by Thames.
2019
In 2019, a new series was broadcast on Comedy Central, produced by Thames.
Community content is available under
CC-BY-SA
unless otherwise noted.