This page only shows primary logo variants.
For other related logos and images, see:
Bluey is an Australian animated children's television series developed and produced with the assistance of Screen Queensland. It is a Ludo Studio production for the ABC with principal production investment from BBC Studios, ABC and Screen Australia.
2016
| | |
| --- | --- |
| | LOGO MISSING |
2017? (alternate/pilot)
This was only used in the unaired pilot episode.
2018 (prototype)
This prototype logo has only appeared in some early promotional images for the show.
2018–present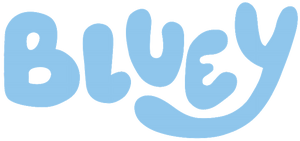 This is their current logo, and can be seen on Bluey-related stuff
DVD Volumes
Bluey: Magic Xylophone and Other Stories (2019, Volume 1) | Bluey: Horsey Ride and Other Stories (2019, Volume 2) | Bluey: The Pool and Other Stories (2019, Volume 3) | Bluey: Grannies and Other Stories (2020, Volume 4) | Bluey: Camping and Other Stories (2020, Volume 5) | Bluey: Asparagus and Other Stories (2020, Volume 6) | Bluey: Dance Mode and Other Stories (2020, Volume 7) | Bluey: Sticky Gecko and Other Stories (2021, Volume 8) | Bluey: Queens and Other Stories (2021, Volume 9)| Bluey: Sleepytime & Other Stories (2021, Volume 10)
---
Books
Bluey: Fruit Bat (2019) | Bluey: The Beach (2019) | Bluey: Time to Play! (2019) | Bluey: Bob Bilby (2020) | Bluey: Easter Fun! (2020) | Bluey: The Creek (2020) | Bluey: Big Backyard (2020) | Bluey: Grannies (2020) | Bluey: All About Bluey (2020) | Bluey: All About Bingo (2020) | Bluey: My Dad is Awesome (2020) | Bluey: Fun and Games (2020) | Bluey: Let's Play Outside! (2020) | Bluey: Verandah Santa (2020) | Bluey: Hooray, It's Christmas! (2020) | Bluey: The Pool (2021) | Bluey: Mum School (2021) | Bluey: Bingo (2021) | Bluey: Bluey and Friends (2021) | Bluey: My Mum is the Best (2021) | Bluey: Where's Bluey? (2021) | Bluey: At Home With the Heelers (2021) | Bluey: Giant Activity Pad (2021) | Bluey: Daddy Putdown (2021) | Bluey: Charades (2021) | Bluey: Sleepytime (2021) | Bluey: Christmas Swim (2021)
---
Soundtrack albums
Bluey: The Album
---
Other
Bluey's Big Play
---