1992-2000
Boomerang was first introduced on December 1, 1992 (two months after the original introduction of Cartoon Network) as a block on Cartoon Network for classic cartoons ranging all the way back to the early 1900's. Prior to early 2000, it didn't have a proper logo. Thus, like Nickelodeon, its logo was constantly different along with a different theme for the block. Sometime prior to the rise of the channel of the same name, it started using the following logo, especially during the pre-launch animation of the channel.
2000–2015

Sometime prior to the rise of Boomerang as a full-featured channel, the Cartoon Network block of the same name adopted this logo. It was additionally seen during the animation loop before it launched as a channel. It finally was introduced as a full-featured channel for classic cartoon programming on April 1st, 2000 in the United States. The block of the same name was still active on Cartoon Network until late 2004, when it finally became only a sister channel of Cartoon Network. This would then become the remaining instance (the other, being the 1999 Cartoon Network Productions logo) to still feature the original Cartoon Network logo until the early 2015 redesign. As of 2015, this is now being used as a secondary logo.
2014–present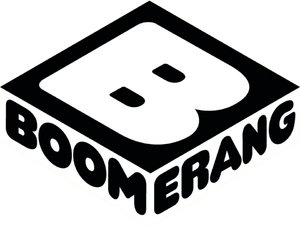 Plans for Boomerang to redesign itself were first planned in early 2014. The new logo would then be revealed later that year. Latin America was the first country to receive the redesign in September, with the U.S. following January 19, 2015, and other countries following up with the ongoing redesign later on.
See also
Community content is available under
CC-BY-SA
unless otherwise noted.