1883–2019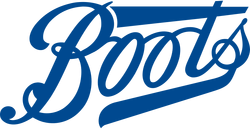 This Boots logo has remained more or less the same since its inception in 1883, with only slight tweaking over the years. Early versions had differences with every incarnation due to being hand-drawn and often included "The Chemists" written within the elongated 't' and 's'.
196?–2019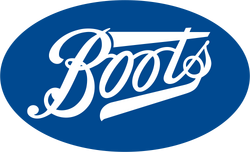 In the 1960s, the logo began to be more commonly used inverted, within a black oval. The oval changed to blue in the 1980s. This remained the case until 2019.
The Boots Company merged with Alliance UniChem in 2006, forming Alliance Boots. The Alliance Pharmacy brand was absorbed into the Boots brand.
2019–present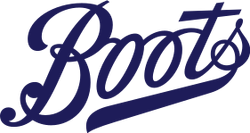 In early 2019, an updated logo began to be rolled out; redrawn, with the oval background and elongation on the 't' removed. Despite this change, many stores and Boots' products are still using the old logo as of 2022.