1986–1988

British Satellite Broadcasting (BSB) won the Direct Broadcasting by Satellite franchise for fifteen years on 11 December 1986. The channel line up was originally to comprise of Galaxy, Now, Screen and ZigZag. Of these only Galaxy and Now formed part of the eventual launch line up.
1988–1990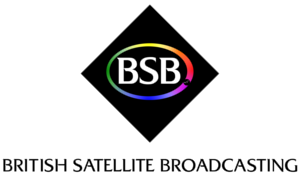 Following delays caused by issues with the manufacture of signal receivers, BSB eventually launched on 26 March 1990 with six channels; Galaxy (general entertainment), The Movie Channel (subscription movies), Now (news and current affairs), The Power Station (music), The Sports Channel (subscription-free sports) and The Computer Channel which was only promoted for business viewers and shared frequency with The Sports Channel. These logos were made by Lambie-Nairn.
In November 1990, BSB merged with its former competitor Sky Television plc, forming British Sky Broadcasting (BSkyB). BSB branding was removed from the remaining channels (The Movie Channel, The Power Station and The Sports Channel) on 2 November 1990. Productions for these channels remained credited and copyrighted to BSB until 8 April 1991.