Budweiser Light
1982–1983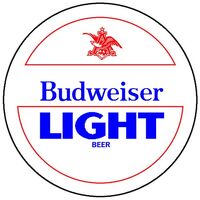 | | |
| --- | --- |
| | SVG NEEDED |
1983–1984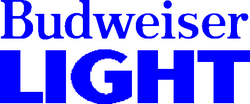 | | |
| --- | --- |
| | SVG NEEDED |
Bud Light
1984–1990
| | |
| --- | --- |
| | SVG NEEDED |
1990–2009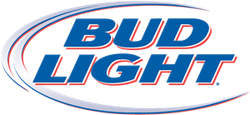 | | |
| --- | --- |
| | SVG NEEDED |
2009–2013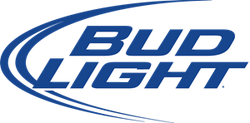 | | |
| --- | --- |
| | SVG NEEDED |
In 2009, Bud Light was given a new look, complete with the slogan "Here We Go". Still used alongside the following logo for Bud Light Chelada.
2013–2016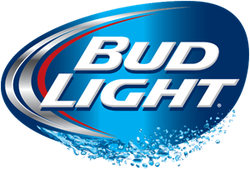 | | |
| --- | --- |
| | SVG NEEDED |
A slightly redesigned version of the 2009 logo was introduced in 2013 with a brand new typeface, along with the slogan "Up For Whatever". While no longer used for the flagship brand or Bud Light Lime products, it is still used for variations such as Bud Light Mixxtail, as well as Bud Light Chelada alongside the preceding logo.
2016–present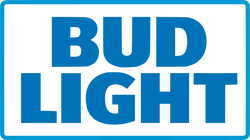 A new look for Bud Light was first revealed in December 2015, and officially debuted during Super Bowl 50. This is reflected in the similar can design, which coincides with Budweiser's current can design. This is also the first can in 15 years to reintroduce the "AB" crest, which has been absent on previous Bud Light cans prior. The logo itself is a retaux to the 1984 logo.