Contents

1994–1996
1996–1997
1997–2000
Telenoticias
1994–1996
Telenoticias was established in 1994 from a partnership between Reuters (specifically its subsidiary in Latin America), Artear (parent company of Argentinean network El Trece), the Spanish network Antena 3 and the U.S. Spanish-language network Telemundo.[1][2][3]
CBS Telenoticias
1996–1997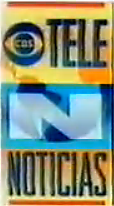 CBS Inc. bought the channel in 1996 and decided to expand its signal to all of Latin America, including a Portuguese-language version for Brazil.[1][4][5] The channel joined the DirecTV Brasil line-up in October 1997, but was removed from the cable systems NET and Multicanal (at the time owned by Grupo Globo) after the Portuguese-language programming launch, because GloboNews would face competition.[1][6][7][8][9]
1997–2000
| | |
| --- | --- |
| | SVG NEEDED |
In this year, the channel has partnered with the Brazilian network SBT.[10] During 1997 and 1999, Jornal do SBT was produced from CBS Telenoticias studios in Miami.[10] SBT also aired Telenoticias news programming, branded as "SINAL" (Sistema de Notícias da América Latina) in the late-night time slot.[10] Band and TV Cultura also closed a partnership with CBS Telenoticias, but only for journalistic content produced by them.[1][11][12][13] A similar agreement was reached with the U.S. network Telemundo. Noticiero Telemundo, like Jornal do SBT, was also produced by Telenoticias. The agreement with Telemundo began in 1996 and ended in 1999, when the Spanish-language network decided not to renew it.[14] In 2000, Telemundo acquired the channel.[1][15][16] In this way, the channel was closed and was replaced by Telemundo Internacional in March 2000.[1] Brazil was the only country where CBS Telenoticias had signal that did not receive Telemundo Internacional, because Telemundo had an agreement with Rede Globo to broadcast its telenovelas.[17]
References
↑ 1.0 1.1 1.2 1.3 1.4 1.5 NBC e CBS Apostam em Canais Latinos de Notícias (in Portuguese). TV Magazine, published in Jan. 20, 2011.
↑ CBS quer ganhar os mercados latinos (in Portuguese). Folha de S.Paulo, published in Jun. 28, 1996.
↑ Telemundo joins net news race - Spanish style. Multichannel News, published in Jun. 7, 1993.
↑ Megafusões animam setor de mídia (in Portuguese). Folha de S.Paulo, published in Sep. 22, 1996.
↑ CBS TELENOTICIAS HABLA ESPAÑOL (in Spanish). El Tiempo, published in Jun. 15, 1996.
↑ TeleNoticias estréia em português (in Portuguese). Tela Viva, published in Jan. 16, 1997.
↑ Operadoras lançam pacotes (in Portuguese). Folha de S.Paulo, published in Nov. 2, 1997.
↑ CBS contra Globo (in Portuguese). Folha de S.Paulo, published in Nov. 20, 1997.
↑ CBS TeleNoticias to Launch Brazilian Network Oct. 12 With Portuguese-Language News and Best of CBS News CBS Telenotícis, published in Sep, 19, 1997.
↑ 10.0 10.1 10.2 CBS terá 6 horas de jornalismo no SBT (in Portuguese). Folha de S.Paulo, published in Feb. 21, 1998.
↑ Ibope de "Torre" pode espichar a novela (in Portuguese). Folha de S.Paulo, published in Nov. 12, 1998.
↑ Record esconde "Leão Livre' no fim da noite (in Portuguese). Folha de S.Paulo, published in Jan. 6, 1999.
↑ CBS Telenoticias tem novo acordo no Brasil (in Portuguese). Tela Viva, published in Sep. 3, 1998.
↑ Telemundo breaks agreement with CBS Telenoticias and begins their own news department. Network 54, published in Sep. 3, 1999.
↑ Telemundo compra a CBS Telenoticias (in Portuguese). Folha de S.Paulo, published in Feb. 5, 2000.
↑ Telemundo Deals for CBS TeleNoticias. Multichannel News, published in Feb. 6, 2000.
↑ Acordo com Globo tira CBS Telenoticias do ar (in Portuguese). Folha de S.Paulo, published in Feb. 28, 2000.
External links
Part of RTL Group (19.6%)
---
Atresmedia Televisión
Antena 3 | laSexta | Neox | Nova | Mega | Atreseries
International channels
Antena 3 | Atreseries | Atrescine | ¡Hola! TV
---
Atresmedia Radio
Onda Cero | Europa FM | Melodía FM
---
This is a list of programmes broadcast and/or produced by Antena 3. Most of the programmes below are also broadcast outside Spain through Antena 3 Internacional. No imported programming is included. Most Original Series were excluded to avoid problems with the template's lenght.
---
Current programming:
¡Boom! | Antena 3 Noticias | El Hormiguero | Espejo Público | La Ruleta de la Suerte1 | La Voz2 (Senior) | Pasapalabra3
---
Former programming:
¡Ahora Caigo! | Atrapa un Millón4 (Diario) | Distracción Fatal | El Gran Juego de la Oca5 | El Precio Justo6 | ¿Hay Trato?7 | Te Lo Mereces8 | Tu Cara Me Suena9 | ¿Quién Quiere Ser Millonario?10
---
Original Series
Currently broadcast: Amar es para siempre11
Formerly broadcast: El auténtico Rodrigo Leal12 | Velvet | Rescatando a Sara | Sin identidad | Cuéntame un cuento | Algo que celebrar | Bajo sospecha | Allí abajo | Vis a vis | Mar de plástico | Buscando el norte | La embajada | Pulsaciones | La Casa De Papel13 | El incidente | Tiempos de guerra | Apaches | Cuerpo de élite | Fariña | La catedral del mar | Presunto culpable | Matadero | 45 revoluciones | Pequeñas coincidencias | Toy Boy | Perdida | La valla | El nudo | La cocinera de Castamar | Benidorm | Mentiras | Alba14
Upcoming: Deudas15 | Señor, dame paciencia15 | Heridas | Cristo y Rey
---
Notes:
1Spanish version of Wheel of Fortune, currently distributed by CBS Media Ventures.
2Spanish version of The Voice, currently owned by ITV Studios.
3Spanish version of The Alphabet Game, produced by Objective Productions and the BBC.
4Spanish version of The Million Pound Drop (later The £100K Drop), produced by Remarkable Television and broadcast in Britain through Channel 4.
5Spanish version of Il Grande Gioco dell'oca, created by Jocelyn Hattab and broadcast in Italy through Rai 2.
6Spanish version of The Price is Right, currently owned by Fremantle.
7Spanish version of Let's Make a Deal, currently distributed by CAN'T STOP media.
8Produced by Magnolia TV.
9Currently distributed by Endemol Shine Group.
10Spanish version of Who Wants to Be a Millionaire?, currently distributed by Sony Pictures Television.
11Broadcast since 2013.
12Adaptation of the homonym Colombian soap opera, distributed by Caracol Televisión.
13Co-produced with Vancouver Media and Netflix.
14Adaptation of the Turkish soap opera Fatmagül'ün Suçu Ne?, distributed by Kanal D International.
15Original Series that premiered early on Atresplayer Premium.


---
Programmes broadcast in laSexta:
laSexta Noticias | Más Vale Tarde | Pesadilla en la Cocina | ¿Te lo vas a comer?
---
Other
Atresplayer | Atresmedia Conecta | Atresmedia Cine | Atresmedia Studios | tualbum.es | Fundación Atresmedia | Verte | Ponle Freno | Objetivo Bienestar | hazteco | Constantes y Vitales | Flooxer | LOVEStv
---
Former/Defunct
laSexta2 | laSexta3 | Nitro | Xplora | Telehit | Hogar 10 | Ver-T | Antena 3 HD Premium | Antena 3 Canarias | Antena 3 Radio | Onda Cero International | Onda 10 | Onda Cero Música | Gol Televisión | Telenoticias | Global Televisión | Top Chef
---