For the Czech broadcaster, see Česká televize.
Contents

2011-2012
2012-2015
2015-2017
CHASE
2011–2012

Formerly when it started its launch, Chase is broadcasted every night after The Game Channel, which limited its broadcast on mornings & afternoons. On the later part of February 2012, all programs of CHASE were marked by an investigator note, located at the lower-left side of the TV screens, where it was written that CHASE goes 24. CHASE then remained on BEAMtv 31 and took its 24-hour broadcast on free TV .After that event, The Game Channel then bid goodbye to viewers of BEAM Channel 31 after 7 months of broadcasting on free TV, and decided to move its operations on cable. On September 7, 2012, Jack TV plugged their announcement thru CHASE programs bearing the title "Another Jack TV is rising, coming soon on this channel" (BEAM Channel 31). This indicated that CHASE was being replaced; finally, on October 20, 2012, Jack City was then launched, marking October 19 as the end of CHASE's broadcasts.
Jack City
2012

–2

015
On the event before this channel was launched, CHASE ended its operation on October 19, 2012, although some of its programs was still carried over by this channel. The full broadcast was initiated on November 11, 2012. The main reason of reformatting/rebranding is due to CHASE which is find out that is too much male-centric. On September 1, 2014, Jack City has no longer aired on free TV. However, it will be continue broadcast on 24/7 cable.
On March 21, 2015, Jack City ceased broadcasting, rebranding into CT.
CT
2015

–2

017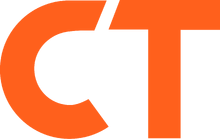 On March 22, 2015, the channel was officialy launched by Solar Entertainment Corporation.
On December 31, 2017 at 11:59 pm, CT officially signed-off the air due to low viewership.
Other
For other related logos and images see: CT/Other
Community content is available under
CC-BY-SA
unless otherwise noted.