Cableofertas was a Chilean 24-hour pay-TV channel that offered classified data and notices of sales and offers to the viewer. It began its broadcasts in 1993 through Channel 33 of Metrópolis for the Metropolitan Region, and was also broadcast for open TV as a morning block between 1993 and 1994 through La Red and in 1994 as an evening block by UCV-TV. In 1995 it was changed to frequency 36 in Metrópolis and was expanded to Cablexpress channel 41, then at the end of the year, after its merger with VTR Telecable, thus transforming into VTR-Cablexpress, the latter obtains the signal exclusively. However, at the end of May 1997 and due to changes in the programming of the same cable operator, Cableofertas closed its transmissions abruptly, given its low profitability.
1993-1997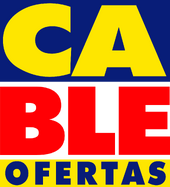 See also
Community content is available under
CC-BY-SA
unless otherwise noted.