Cadbury's Chomp
1989-199?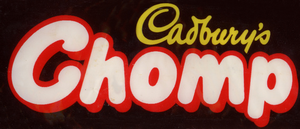 The Chomp bar was launched in 1989. Originally, the bar used a brown background, with the wordmark in white with a red outline.
199?-2003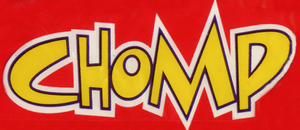 In around 1998, the Chomp bar underwent an overhaul to tie into the Cadbury Land series of adverts that ran until 2001. This version introduced the now familiar yellow text and red background.
Cadbury Chomp
2003–2009

Following the Cadbury products overhaul in 2003, Chomp was given an updated look with a new font, with a purple outline, the font was also made lowercase again.
2009–present
As part of a revamp in 2009, Chomp was given another new look. The logo is now 2D, with the "C" having teeth and a tongue.
Community content is available under
CC-BY-SA
unless otherwise noted.